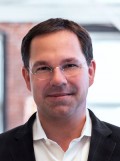 Timothy Mount
Partner, Planning & Design
Tim Mount is a co-owner of Street-Works Studio, and is in charge of all urban planning and design projects, bringing more than 20 years of experience in urban design and architecture. Tim's expertise in mixed-use is instrumental in the creation and continued vitality of his projects. He ensures that the implementation of any vision is realized; from master planning to architectural and open space character, to the day-to-day practicalities of a large-scale place. Among his top skills, is his ability to translate complicated development strategies into cohesive physical solutions, making sure that the project's vision is never lost even in the smallest detail.
Mr. Mount is the design director for Federal Realty Investment Trust's projects Pike & Rose in Rockville, MD and Assembly Row in Somerville, MA.
Prior to Street-Works Studio, he was a lead designer in Cooper Carry's Main Street Studio in Alexandria, VA where the conceptual design work on Bethesda Row and Santana Row began.
Education:  Miami University, Oxford, OH – Bachelor of Environmental Design