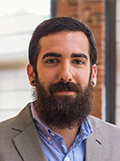 Robert Ruggiero
Robert is a Registered Architect with several years of design experience in a variety of fields including educational, high-end residential, and retail planning & design.
He has studied architecture and public space in cities around the globe including New York City, Chicago, Boston, Istanbul and Havana.
At Street-Works Studio, Robert focuses on 2D & 3D design of public spaces, building facades, retail storefronts and pedestrian-driven mixed-use environments.
Education: New York Institute of Technology  – Bachelors of Architecture
Registered Architect in Connecticut